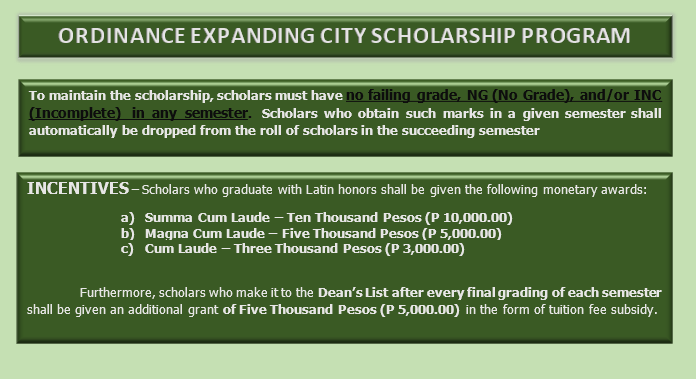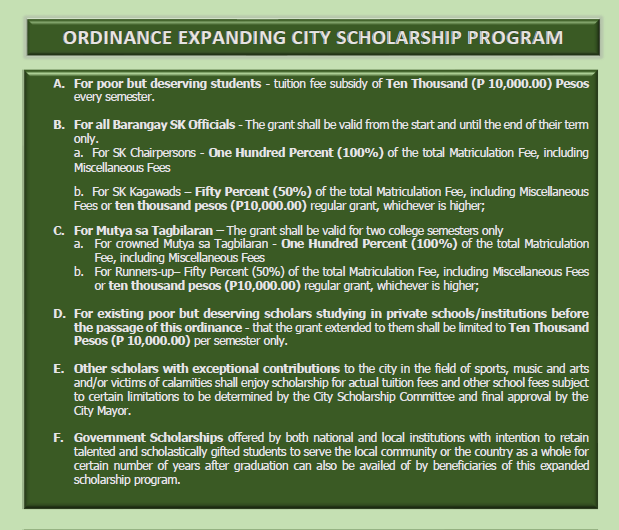 The 13th Sangguniang Panlungsod, led by presiding officer Jose Antonio Veloso approved during their regular session an ordinance expanding the Scholarship Program of the City of Tagbilaran. The approved ordinance which was sponsored by Committee on Education, Science & Technology, Arts, Culture and Heraldry Chair Joseph Bompat recognizes the efforts of students who excel not just academically, but also in the field of sports, music and arts, as well as those who are gravely affected by natural calamities. The ordinance provides grants to the following:
A. For poor but deserving students
B. For all Barangay SK Officials
C. For Mutya sa Tagbilaran
D. For existing poor but deserving scholars studying in private schools/institutions before the passage of this ordinance
E. Other scholars with exceptional contributions to the city in the field of sports, music and arts and/or victims of calamities
F. Government Scholarships offered by both national and local institutions with intention to retain talented and scholastically gifted students to serve the local community or the country as a whole for certain number of years after graduation can also be availed of by beneficiaries of this expanded scholarship program.