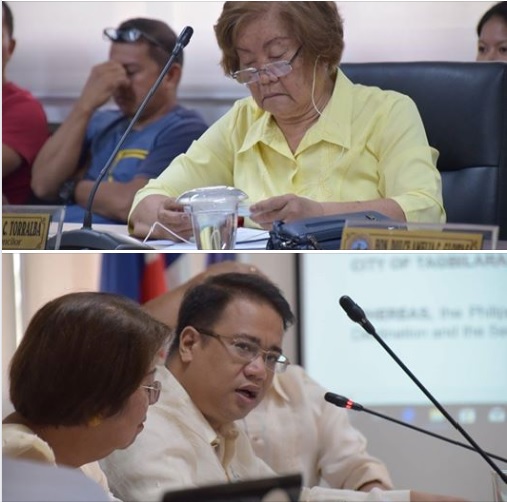 June 28, 2019 – The City Council headed by Vice Mayor Jose Antonio "Toto" Veloso bid goodbye to two City Councilors during the last regular session of the Thirteenth Sangguniang Panlungsod, Councilors Alberta "Betty" Torralba and Greggy S. Gatal.
The Council wrapped up their usual business of the week and successfully pushed three City Ordinances namely P.O. No. 25-18 – An Ordinance Promoting and Providing Incentives for Businesses of this City who shall engage in Renewable Energy as an Alternative Source for Stable Energy, P.O. No. 26- 18 – An Ordinance Granting Franchises and MROP Certificate to E- tricycle Motorela Operators in Tagbilaran City, and P.O. 02-19 An Ordinance Adding a Paragraph to Section 20 And Adding Another Provision Assigned As Section 18b To Ordinance C-211, Otherwise Known As "Governing The Operation Of Motorized Tricycles-For-Hire In The City Of Tagbilaran". All of these ordinances are authored by the exiting member, City Councilor Greggy S. Gatal who has been prudently making several legislative measures during his term in the Sangguniang Panlungsod.
City Councilor Alberta "Betty" Torralba after being in service for 9 years, thanked her colleagues in the City Council and everyone for the opportunity of serving the constituents of this City saying it had been a pleasure and honor to work for the City all along.
City Councilor Greggy S. Gatal also thanked the City Council and the legislative staff and assured that he will remain to be supportive of the City Legislative Department. City Councilor Gonzaga spoke that Gatal's name shall remain to be recognized being the father of several City Legislations including those which have already been passed and yet to be approved. His term might have just ended but this does not mean goodbye as his name will continue to linger around the walls of the City through the force of the ordinances he created which are being enforced up to date and in the future.
For these departing members of the City Council, the future is still a long way ahead and surely the field of politics is still a wide arena. For now, they need to bid the City Council goodbye as they take on a different path of service.
The 2016- 2019 term will officially end noon of June 30, 2019 and the new Fourteenth Sangguniang Panlungsod shall be welcomed thereafter.