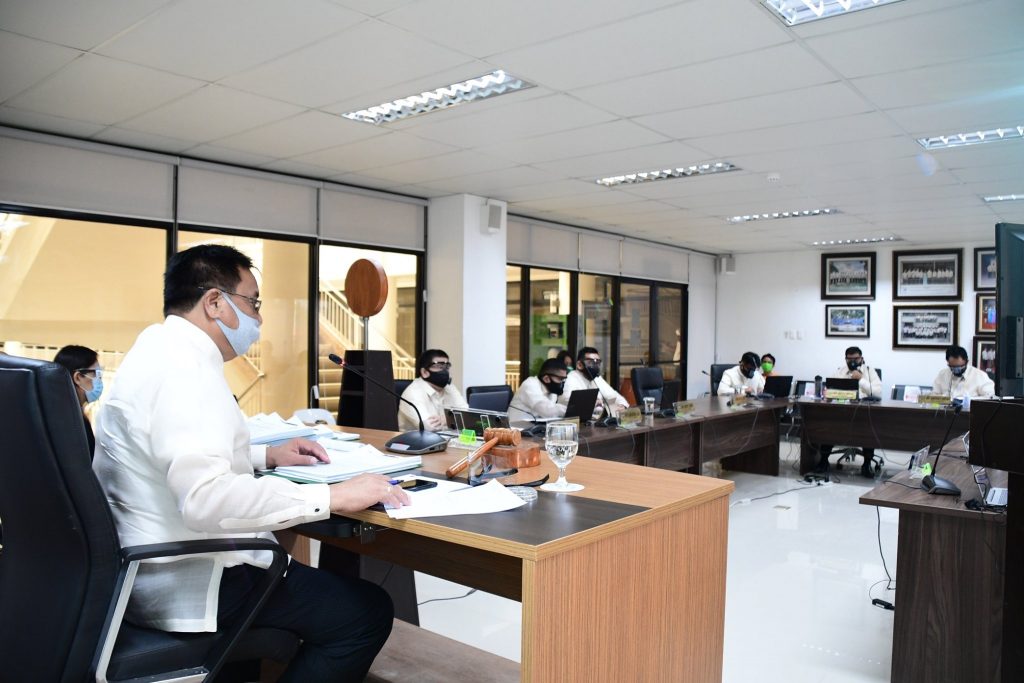 The 14th Sangguniang Panlungsod responded to the need of the residents of this city, particularly the marginalized groups, to generate the necessary income to support their families, by approving the resolution on the Bangon ug Abante sa Bag-ong Asenso Livelihood Project, last August 7,2020, during its regular session at the SP Session Hall of the Tagbilaran City Hall. The session was presided by Hon. Vice Mayor Jose Antonio S. Veloso.
This livelihood project is in line with Tagbilaran City's mission to help the marginalized groups in their quest for economic upliftment, by generating sufficient income to support their families and dependents, thereby improving their financial and economic status, and thus, becoming productive members of society.
This endeavor is in partnership with the First Consolidated Bank (FCB) Foundation, Technical Education and Skills Development Authority (TESDA), Department of Trade and Industry (DTI), Bohol Island State University (BISU), University of Bohol (UB), Holy Name University (HNU) and other stakeholders, subject to compliance with existing rules and regulations as stated under Commission on Audit (COA) Circular No. 2012-001 and other existing government accounting and auditing rules and regulations.
The main objective is to train women from all 15 barangays of the City in the skills of sewing, dressmaking, tailoring, and the creation of other cloth-based products, that are being demanded and sought after not only in the City, but even in other municipalities, cities and provinces around the country. This venture further envisions to produce competitive sewers, expert cutters and skillful designers of school, office and sports uniforms, gowns for different occasions, different kinds of costumes, garments of different shapes and sizes, and all other apparel items that fits the needs of the consumers.
Alvin Acuzar, Head of the Barangay Affairs and Constituency Unit (BACU) office, stated that the Women's Group was chosen because women have expressed their utmost interests in such livelihood programs. But the project will not be exclusive for women, as it will also involve other sectors in the future.
An amount of five million pesos, from the livelihood funds, has been allotted for this project. FCB Foundation will also dole out 1.3 million pesos, from their own funds, for the success of this undertaking. FCB Foundation Inc has a strong track record in providing and implementing various livelihood projects to the Boholano community, even in their own, and in partnerships with various institutions and organizations like USAID, Care Philippines and Philippine Business for Social Progress (PBSP), to name a few.
Acuzar further mentioned that this maybe a one-time project, but will definitely have long-term effects. It is expected that the beneficiaries of the project will start to earn decent income even while still undergoing training. The goal is for FCB Foundation to set-up the program at the onset, by buying the needed sewing machines and equipment, furniture, fixtures and maintenance supplies. A cooperative will be formed during the project's second and third year. FCB Foundation will then turnover all the sewing equipment, furniture and fixtures, including training facility developments, to the City Government after three years of operation.
To ensure progress and completion, a project team will be created. Its tasks include the management, operation and coordination of this endeavor. An oversight committee will also be established to monitor the flow and operation during the implementation of this undertaking.
It has been visualized that the established cooperative shall become a leading garments manufacturer and producer of cloth-based products in the country.
The resolution is sponsored by Hon. Dulce Chatto Glovasa , Chairperson of the Committee on Agriculture, Food, Fisheries Resources, Livelihood and Cooperatives.