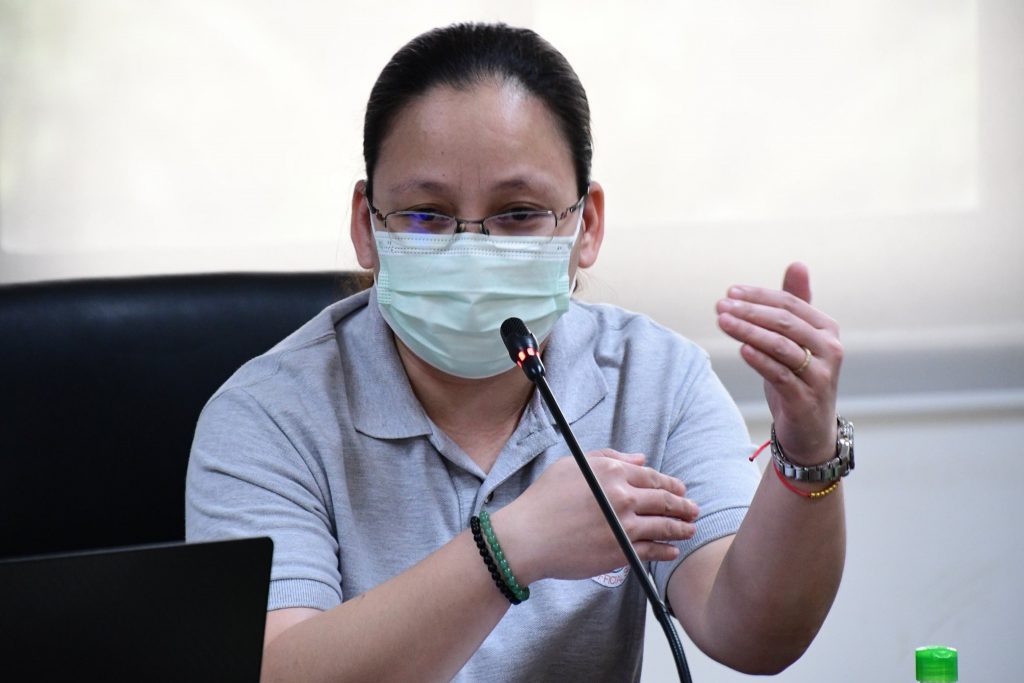 Vice Mayor Jose Antonio S. Veloso, presiding officer of the 14th Sangguniang Panlungsod, approved Resolution 21-30 which was considered as a Special Order of the Day in today's regular session. The approval of Resolution 21-30 will allow the City to utilize the trust fund of the unexpended Local Disaster Risk Reduction and Management Funds of the previous year to be used in the City's Vaccination Program against Covid-19. Pursuant to COA 's Local Budget Circular No. 124, series of 2020, that the unexpended balances of the LDRRMF that accrued to the special trust fund pursuant to Section 21 of RA No. 10121 may be used to address the disaster response requirements of the COVID-19 emergency, among the other purposes sanctioned by the law. The trust fund which amounts to three million pesos (P3,000,000.00) shall be used to purchase Medical Equipment, Medical Supplies, Food Supplies, Industrial Electric Fan and Repairs and maintenance of the Vaccine Stations.
Dr. Jeia Pondoc, head of the City Health Office, joined the regular session of the city council to specify the items needed for the City's Vaccination Program. Out of the P3M, P 835,000 shall be spent in procuring: 5 units of Mobile Vaccine Refrigerator/ Cooler (-30 ͦC) and 5 units of 40L Oxygen tank with regulator. The refrigerator will be used in transporting the vaccine to the vaccination site. Oxygen tanks shall be placed in each vaccination site, in case there will be patients experiencing anaphylactic shock. She also included 10 industrial electric fans which will be placed in the Cogon gymnasium to fan out the air to avoid infection. Repairs and maintenance cost amounting to P150,000 shall be used to repair the classrooms of the aforementioned schools. Bulk of the funds will be used to procure medical supplies.
Dr. Pondoc who is also heading the vaccination program, disclosed that the City has been included as second priority in the second batch of LGUs to be supplied with the vaccines by Department of Health. The earliest time we can receive the vaccine will be on the third quarter of this year or by August -September. In the meantime, the City has prepared 5 vaccination sites, namely: Bool Elementary School, Tagbilaran City College, City Central Elementary School, Dao Elementary School and the Cogon Gymnasium. Each site shall have 10 personnel composed of vaccinators, recorders, doctors, nurses and medical aides. These personnel will be on the site from 8 am to 5 pm from Monday to Friday.
Pending the arrival of the vaccines, the City Health will be preparing all necessary materials, venue and personnel needed for the vaccination program. She also assured that prior to the actual vaccination program, they will be conducting simulation exercises to ensure a seamless flow during the actual vaccination program.