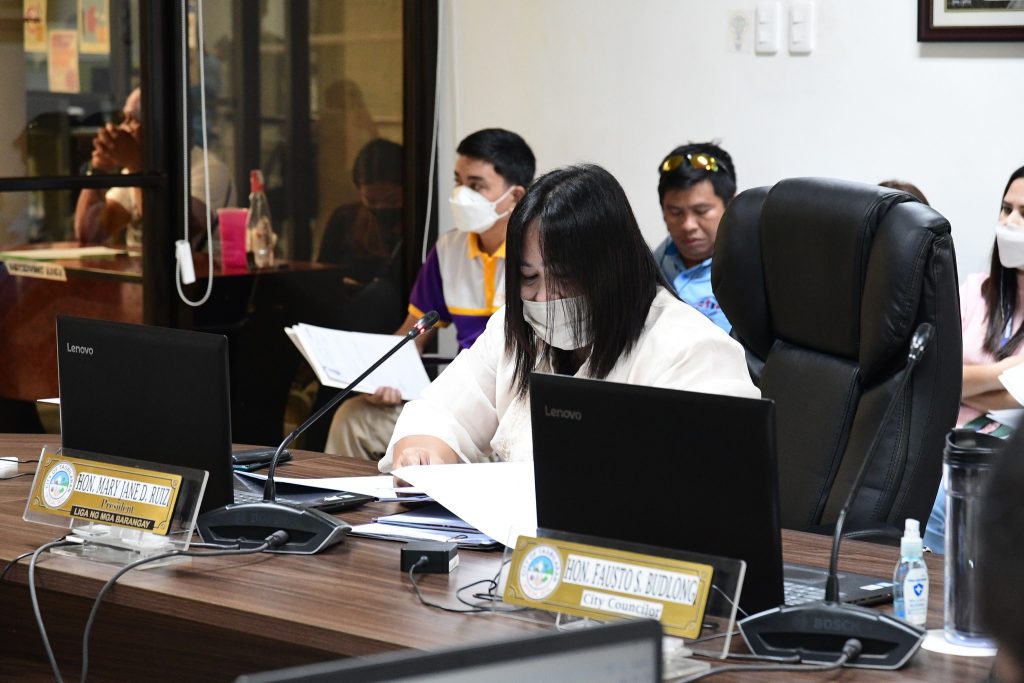 The 15th Sangguniang Panlungsod of the City of Tagbilaran reviewed and approved three ordinances of Barangay Dampas during their session on September 30, 2022.
As part of their powers, duties and functions the Sangguniang Panlungsod shall review all ordinances approved by the sangguniang barangay to determine whether these are within the scope of the prescribed powers of the sanggunian and of the punong barangay.
The Barangay Ordinances of Dampas have been submitted for review to ensure that Budgetary requirements and limitations provided in the Local Government Code are complied with; the budget does not exceed the estimated receipts and/or income of the barangay; and, the items of appropriations are not more than those provided by existing laws.
The following ordinances were subjected to review and were subsequently approved by the 15th Sangguniang Panlungsod.
 BARANGAY APPROPRIATION ORDINANCE NO. 04 SERIES OF 2021, ENACTED ON DECEMBER 1, 2021 BY THE SANGGUNIANG BARANGAY OF DAMPAS, CITY OF TAGBILARAN, APPROVING THE SUPPLEMENTAL BUDGET OF BARANGAY DAMPAS IN THE AMOUNT OF FOUR MILLION FIVE HUNDRED FOUR THOUSAND SIX HUNDRED FORTY PESOS AND FORTY CENTAVOS (Php 4,504,640.40) AS OPERATIVE AS TO ITS STATED EFFECTIVE DATE, PURSUANT TO THE PROVISIONS OF RA 7160, SUBJECT HOWEVER TO THE CONDITIONS STIPULATED BY THE LOCAL FINANCE COMMITTEE
 BARANGAY APPROPRIATION ORDINANCE NO. 05 SERIES OF 2021, ENACTED ON DECEMBER 22, 2021 BY THE SANGGUNIANG BARANGAY OF DAMPAS, CITY OF TAGBILARAN, APPROVING THE SUPPLEMENTAL BUDGET OF BARANGAY DAMPAS IN THE AMOUNT OF TWO HUNDRED SEVENTY THOUSAND PESOS (Php 270,000.00) AS OPERATIVE AS TO ITS STATED EFFECTIVE DATE, PURSUANT TO THE PROVISIONS OF RA 7160, SUBJECT HOWEVER TO THE CONDITIONS STIPULATED BY THE LOCAL FINANCE COMMITTEE
 BARANGAY APPROPRIATION ORDINANCE NO. 06 SERIES OF 2021, ENACTED ON DECEMBER 28, 2021 BY THE SANGGUNIANG BARANGAY OF DAMPAS, CITY OF TAGBILARAN, APPROVING THE SUPPLEMENTAL BUDGET OF BARANGAY DAMPAS IN THE AMOUNT OF ONE HUNDRED TEN THOUSAND PESOS (Php 110,000.00) AS OPERATIVE AS TO ITS STATED EFFECTIVE DATE, PURSUANT TO THE PROVISIONS OF RA 7160, SUBJECT HOWEVER TO THE CONDITIONS STIPULATED BY THE LOCAL FINANCE COMMITTEE